SHIP INSPECTIONS
Conducting an Inspection and cleaning of bottom hull plating
Carry out an inspection and cleaning of the ships propeller.
Sea chest inspection and isolations.
HULL THICKNESS GAUGING
We have the capability to carry out NDT as part of an inspection, using equipment such as underwater ultrasonic thickness meter, corrosion and interaction surveys. The data obtained from surveys of this type can then be related to current standards and historical information to provide additions to reports like corrosion trends and predictions.


CORAL REEF PERIODIC SURVEY
Our team of experienced divers is capable for assisting in the Installation of Coral embedded Geo-textile bag and conducting Periodic Survey to assess coral reef's growth percentage, health condition, growth of marine life. A detailed assessment report along with video will also be provided.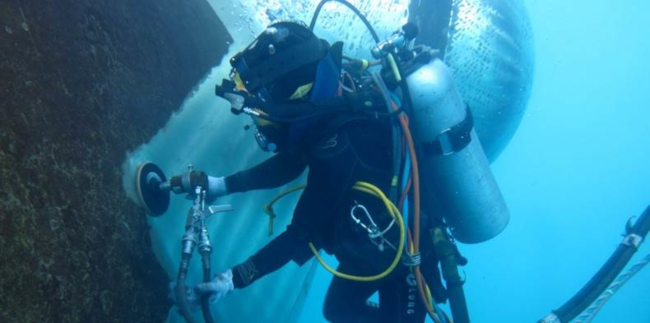 ASSISTANCE IN SALVAGE OPERATIONS
From moorings, boats and vessels, Marino diving team have practical experience in search and recovery in a range of challenging environments. We aim to recover our targets in the best possible condition. Following the salvage operation, we can prepare a thorough damage survey to comply with the requirements of the surveyor.
ARTIFICIAL REEF INSTALLATION
Our skilled team can provide assistance in the Installation of Artificial Reef along the coast line. Detailed report with video is provided.
To become the best professional Ship design, Ship building and Maintenance company in the world by building a team of Professionals delivering high quality services to client's requirement with promptness.
Naval Architects
Marine Engineers
Project Managers
Piping Engineers
Structural Engineers
AWS Welding Inspectors
NACE Coating Inspectors
ASNT Level 11 NDT Inspectors
Certified Welders
Experienced Piping & Structural Fabricators
Experienced Insulators
Experienced Painters
IMCA Certified Divers
Marine Trainers